I have been posting consistently on YouTube for the last 3 months.
In that time, I have grown my channel to 681 subscribers and my videos have had a total of 23,000 views.
In this post, I am going to break down everything I have done to get to where I am and what I am going to do to grow my channel further.
Subscriber growth
Channel growth on YouTube is never linear. Most of my subscribers have come from only a handful of my videos (and one semi-viral Hacker News post).
I have seen this pattern from other YouTubers as well, it is the Pareto Principle at work again. 80% of my subscribers come from 20% of my videos.
This is how my subscriber count has grown over the last 3 months:
1st October 2022: 51 subscribers. I had 3 videos on my channel from earlier in the year. Most of these subscribers were friends, family and colleagues from work.
1st November 2022: 135 subscribers. This was just organic growth from YouTube, plus a few more colleagues subscribing as I shared my videos on LinkedIn.
1st December 2022: 584 subscribers. I had 1 video do very well and brought in quite a few subscribers. My post about my first month on YouTube went semi-viral on Hacker News and gained my another 120 odd subscribers (although 9 unsubscribed the very next day).
1st January 2023: 681 subscribers. I only posted 3 videos in December, so I could take some time off. Still, I gained another 97 subscribers over December.
This is what the growth chart looks like for these 3 months from YouTube Analytics.

The first peak on the graph is from my post going semi-viral on Hacker News. This resulted in over 10,000 people reading my post and an extra 120 subscribed to my channel.
The second peak is from my video "The Worst Thing About Being a Software Developer" video doing well and getting nearly 10,000 views in the first week.
By YouTube standards this is by no means viral, but it is my best performing video to date and gained me 150 subscribers in the first 7 days.
YouTubers tend to be quite guarded with how their videos are performing, but in the essence of building in public, I like to be completely transparent. So here are all my videos that I have published and where my subscribers have come from.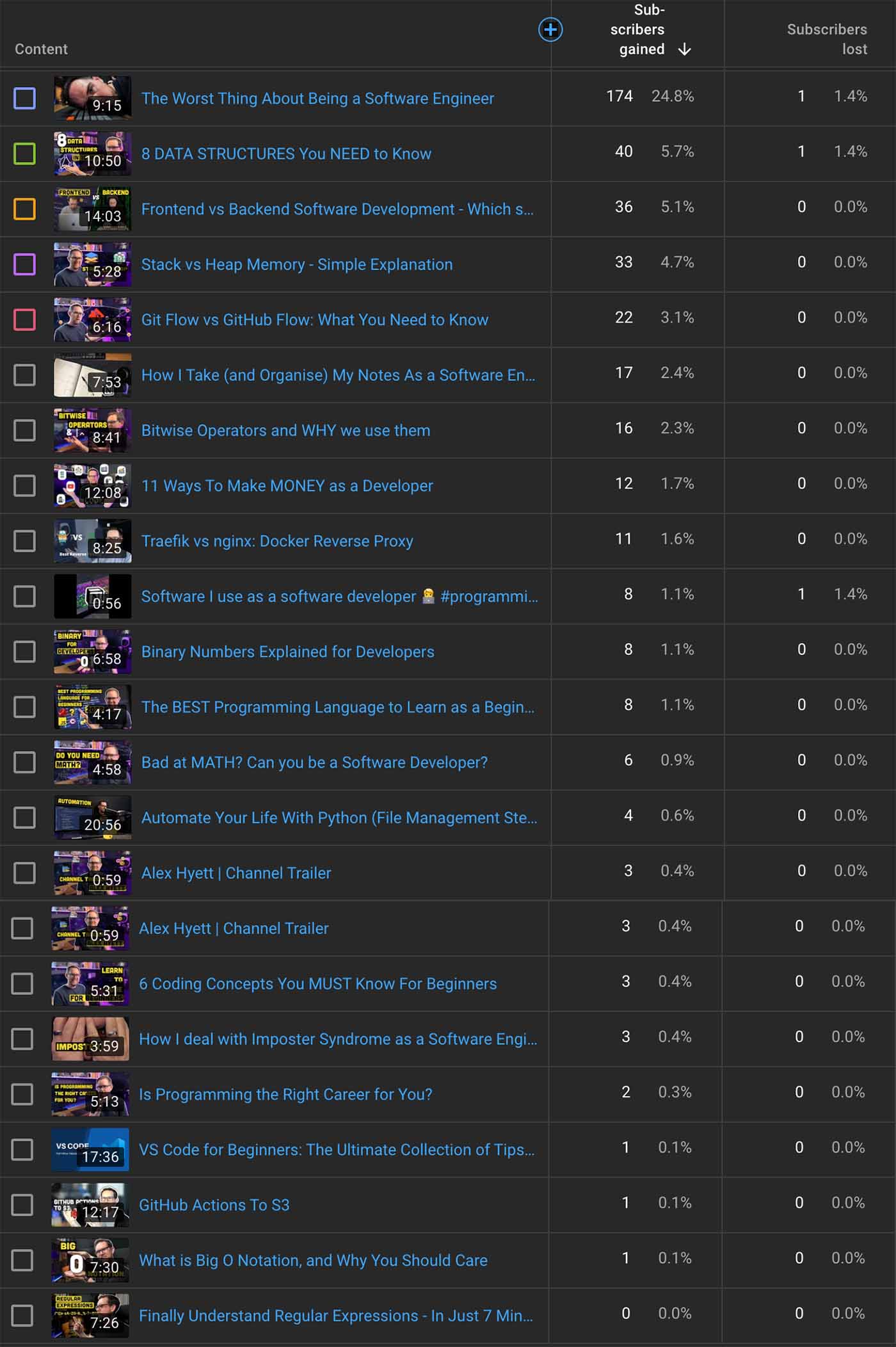 Not all of my subscribers subscribe directly from the video. Some click to the channel homepage and subscribe from there.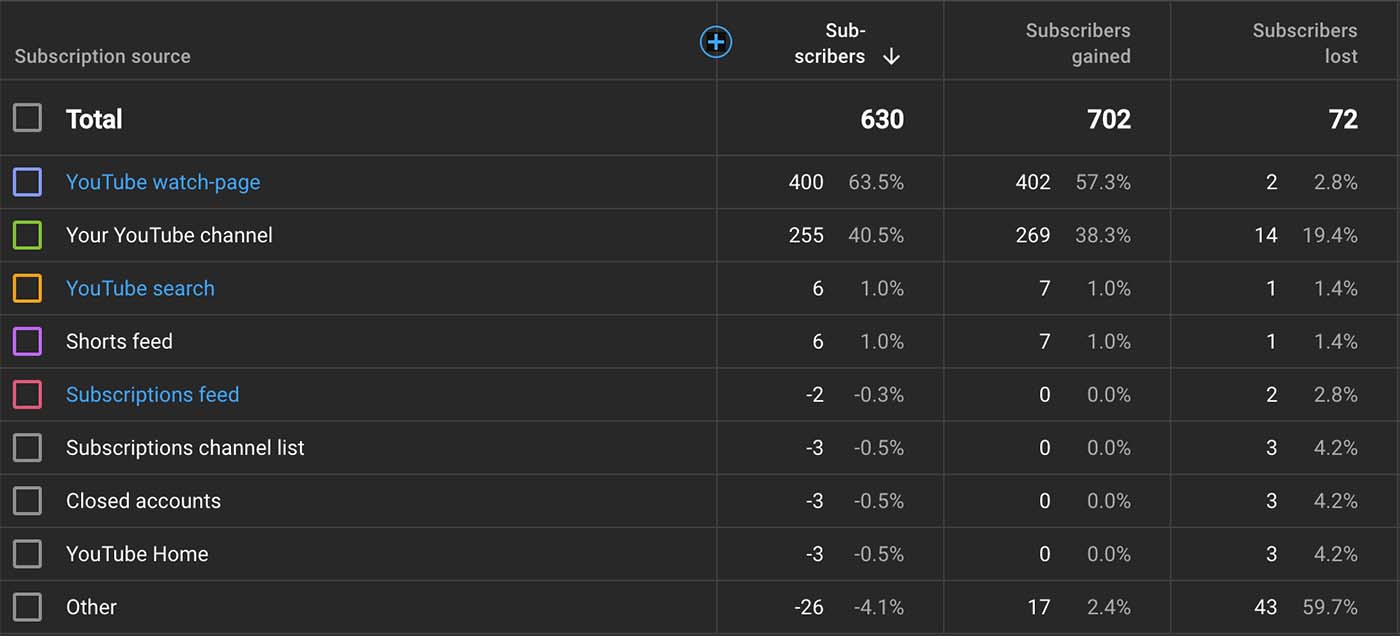 You can see I have lost 72 subscribers in total. I bet most of those are either early subscribers who don't like the content I am now putting out, or some of those from the Hacker News post.
It doesn't really matter how many subscribers you have if they don't like or watch your content.
Video Views
In the first 3 months I had a total of 23,181 views.
My top 6 videos (27%) account for 18,111 (78%) of those views. The Pareto Principle is never exactly 80/20, but that is pretty close.

95% of those views have come from non-subscribers. I have heard from other sources that the views to subscriber ratio is around 14%. So if you have 1,000 subscribers, you should have at least 140 views on your videos.
For me, at 681 subscribers, I would expect to see at least 95 views per video in its first week. I use this a baseline to see how well the video has done.
I think this is likely skewed towards smaller channels, in reality it is probably closer to 5% for larger channels.
For example, Ali Abdaal, has 3.71 million subscribers and his last video 9 days ago got 169K views, which is only 4%.
On the other end of the scale you have YouTubers like MrBeast who has 126 million subscribers, and got 69 million views from his last video posted 12 days ago.
The key to getting people to click on your video is a good title and thumbnail. You can't guarantee they are going to stay for your content, but you need to get them through the door first.
Impressions, Click-Through Rate and View Duration
The number of impressions you get on your videos is dependent on how well your video performs.
If you can get people to click on your video and get them to watch most of it, then the video will be shown to more people. If you get them to like, subscribe and comment, I am sure that helps the algorithm as well.
It sounds simple, but it is really hard.
I got a total of 616.4K impressions in my first 3 months, but only 23,000 views. Most of those impressions were from that one video.

My average click-through rate isn't too bad, generally hovering around 5%:

However, my actual average is 1.7%. When you have a video get many impressions, the click-through rate naturally drops as it is shown to a wider audience who aren't necessarily your target audience.
The view duration is where it gets embarrassing. No matter how long my videos are, I can't get people to watch for longer than 3 minutes.

I have heard from other YouTubers that this is normal. The way to combat it is just to create shorter videos.
If you can hold people's attention for 3 minutes, then it is much better that you get them to watch 3 minutes of a 3-minute video than only 3 minutes of 12-minute video.
Especially if you can get them to click on to another video at the end.
YouTube favours creators who can keep people on the platform for as long as possible.
YouTube also tells you what percentage of people watched the first 30 seconds of your video. I am not sure how important this is compared to overall watch time.
You can see here the videos that are performing well in the first 30 seconds, which doesn't actually correlate to my most watched videos.

YouTube makes money from people watching adverts. It makes sense, that if you can optimise for people watching more adverts, your video will do better.
Adverts are shown:
At the start of each video.
Halfway through longer videos.
At the start of each video
If you can get people to click on your video, they are going to watch an advert. If you can get people to stay till the end and watch your next video, they are less likely to leave YouTube and again watch another advert.
Halfway through longer videos
If you can get people to sit through videos longer than 5 minutes, then YouTube gets to show them an advert halfway through the video.
The caveat here is that your video needs to be good enough for people to watch more of it. There is no point making long videos to get more ad impressions if people aren't staying long enough to see the mid-roll ad.
Which brings me nicely on to monetisation.
Monetisation
At the time of writing, my channel still isn't monetised. You need 1,000 subscribers and 4,000 watch hours to join the YouTube Partner Program.
Between the start of the year and writing (6th Jan) this article, I have gained another 19 subscribers, so I am now at 700 in total.

I also only have 1,142 watch hours, so I need another 2,858 watch hours before I can get any money from YouTube.
YouTube is a long game, it does take a while for it to take off.
Even though, 2,858 watch hours seems a lot. If I can continue getting people to watch for 3 minutes a video, then I need another 57,160 views over the next 9 months to reach this milestone.
The more videos I have, the more views I will get. 57K views isn't even considered viral on YouTube. Chances are I will have one of my videos do well over the next 6 months to push me over the threshold.
What's Next?
You may have noticed from the graphs that I have switched from producing 2 videos a week to just 1.
It was getting difficult to get the videos out on time, doing 2 a week. At one point, I was still editing the video the same day it was due to go out.
On top of that, one of the Hacker News comments was from the guy who runs StuffMadeHere and he pointed out that quality is more important than quantity. Considering he has only 30 videos but 4.16 million subscribers, I am inclined to listen!
For a 5 - 12-minute video, it generally takes around 1 hour of recording and around 3 hours of editing.
A lot of the recording time comes down to camera confidence. I stumble over my words a lot when filming (you can see some out-takes here) so there is a lot of footage that is thrown away.
I am getting quicker with editing by learning all the shortcuts for Adobe Premiere Pro, but it still takes up the majority of the time.
I plan to continue posting 1 video every week at least for the rest of 2023 and see how the channel grows.
In the meantime, I am writing a lot more on my website. I am sure some of my subscribers have come from my website, especially from posts with embedded videos.
I will do another YouTube update in 3 months time. If you liked this article, then please consider subscribing to my channel. Hopefully with your help I will be able to give a monetisation update in my next review.