In my previous post a gave a few examples of apps that are making millions and billions a year. It comes as no surprise that to get to this level of profitability you need downloads in the millions. So how do we find out how to make a profitable app? First thing is to look at people who have already done it and work out how they did it.
I started my quest by looking at the top apps on Google Play, to try and find which games are downloaded the most. I will be focusing on Google Play as unlike Apple they give an indication of the number of downloads an app has got.
You would have thought it would be easy to find out which apps have had the most downloads. There are several Top Charts that Google presents to users. However, most of the top charts seem to be based on what is trending and not on the total number of downloads.
Top Games chart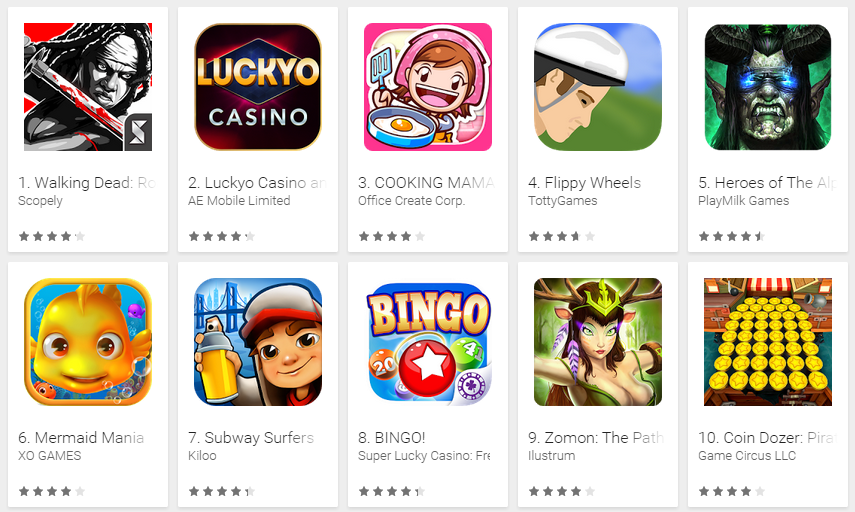 The above screenshot was taken on 04/09/2015 and shows the top 10 games from the "Top Games" chart. Google's algorithm for Top Games clearly isn't using total downloads as a measure but must be based on the number of downloads over a short period of time. So lets look at the download number's for these games.
The most downloaded game above is Subway Surfers with a staggering total of over 500 million downloads, but considering it only came 7th in this list it doesn't help us find the most downloaded games of all time.
The other chart for free games is the Top Grossing chart. Now this could either mean the games with the most downloads, the games that have made the most money or some other unknown Google algorithm. So lets have a look at the top 10 from this chart.
Top Grossing chart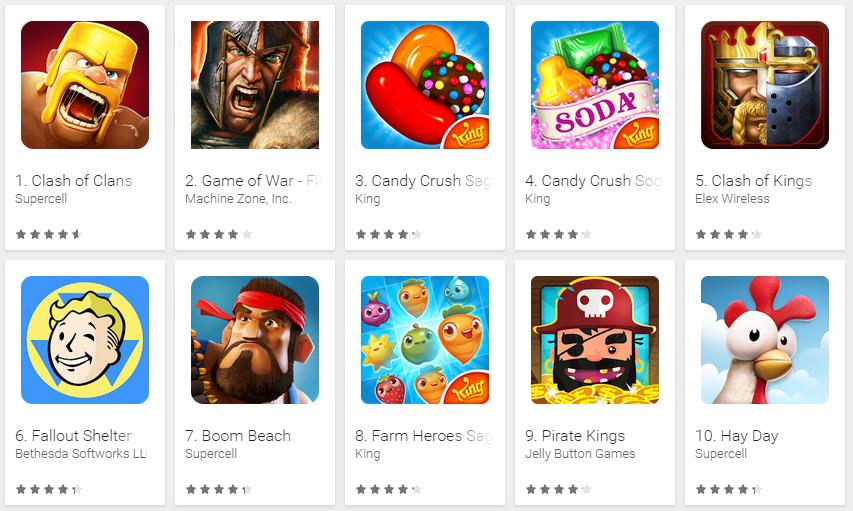 This looks a bit more promising with games such as Clash of Clans and Candy Crush Saga in the list. However, when you look at the total number of downloads the games aren't in order of downloads.
Not only are they not ordered by downloads, Subway Surfers with over 500 million downloads that we saw in the previous chart isn't even in the list, neither is Angry Birds or some of the other well known titles.
I was ready to give up hope in performing any useful analysis using Google Play when I came across PlayDrone. PlayDrone was a project done by Columbia University who wrote a paper on A Measurement Study of Google Play. It is an interesting paper if you have time to read it and it gives some insights into the frameworks used by the popular apps.
The team used a number of computers and 50 Google accounts to analyse all 1.4 million apps in the app store, downloaded all the free APK's, and decompiled them. It also made the news when they found that a large number of apps posed a security problem by containing the username and passwords in the source code.
The code is all on GitHub if you wanted to have a look but they have recommended that you don't run it as the code is not production ready and from reading the paper the team used a number of hacky techniques to gather the data.
Luckily the people over at Archive.org ran PlayDrone for a few days and have made the data available for download. The latest snapshot is from 31/10/2014 so it is a little old but suits me for analysis purposes.
The snapshot consists of a 735MB JSON file which contains a large number of details such as name, downloads and star rating. There is also a link to another JSON file with more data for each app such as a breakdown of the star rating and the price of the app or any in app purchases. All of this is great data if you want to do some research.
Obviously, trying to run queries on a large text file is not particularly useful. Being an engineer, I wrote a quick console app to import the data into a SQL Server Express database so I could analyse it. If you are interested I will be sharing the source code for this on GitHub along side the last post in this series. I ran a query to get a list of all games with over 50 million downloads, here is a list of the top 20 sorted by downloads and star rating (remember data is from 31/10/2014).
So with the PlayDrone data, we now have a list of the most downloaded games on Google Play and we can start to get some insights into which genres are most popular.
From the above list and looking at the top games in general, you can categorise most of the top games into a small number of game types.
Infinite "Runners"
It's clear from the above list that everyone loves infinite running games, with Despicable Me, Subway Surfers, both Temple Run games, Hill Climb Racing and Jetpack Joyride all getting millions of users to have just one more go.
It doesn't need to be strictly a running game. The key to these games is how easy they are to play. They require very little understanding to get started but require a small amount of skill to get further in the game. They only need one hand to play and can be played for as long as you want so are perfect while on the bus, waiting for an appointment or sitting on the loo! Other games such as Doodle Jump, Timberman and Flappy Bird all use this endless gameplay model (and have all been insanely popular).
Racing/Driving/Sports
Racing and driving games are also pretty popular with several examples in this list such as Drag Racing, Dr Driving and Bike Race Free. The majority of the most popular racing games are usually 3D with good graphics so may be out of reach for a solo developer, however games such as Bike Race Free are still incredibly popular. Whether you consider racing a sport or not is up for debate but you will also find games such as pool and football high up in the chart lists.
Physics Puzzles
Angry Birds and the different versions of it, dominate this sector. As with infinite running games these are very easy to play and can be played almost anywhere. Some skill is needed which makes these games feel more engaging and encourages users to share their scores with their friends.
Digital Pet
I can only assume this is the next generation of Tamagotchi's for those too young to remember them. With My Talking Tom and the aptly named Pou making the top list. Users are encouraged to look after their digital pet by feeding them, washing them and putting them to bed. We all know how addictive these digital pets were as kids. I you have a look at games by Outfit7 (who made Talking Tom) you will find a variety of digital animals that can be taken in as pets.
Match 3
One of the most profitable games has got to be Candy Crush Saga ($1.88 billion revenue in 2013). The popular sweet smashing game by King comes under the Match 3 genre of which there are many. The aim of the game is simple, match 3 or more of something to either clear the board or get enough points in a set number of moves. These types of games have been popular for years, remember Bejeweled? There are 3 of these types of games in the top 20 above, Candy Crush Saga, Jewel Star and Shoot Bubble Deluxe. The last is based on the classic bubble shoot games but still essentially follows the match 3 pattern.
Strategy
Next on this list of high rankers are strategy games, with Clash of Clans clearly in the lead. I remember playing Age of Empires for hours on end and this similar game play that keeps users playing. These games are generally war based with the aim of building up your armies to defeat your opponents.
Other
Some games break the mould and don't fit into a particular category. I think Fruit Ninja comes under this heading. As far as I am aware it was one of the first games to embrace the touch interface. Combined with the nice graphics and simple concept make this game a big hit. If you can come up with a completely new way of playing a game it is a risk but it could do very well.
If you can come up with a decent game from one of the above categories it is likely to get a lot of downloads. You might not make $50,000 a day like Flappy Bird but it is sure to be popular if you market it properly.
In my next post I will be using my PlayDrone database to find the most downloaded paid games of all time (sneak peak: Minecraft!) and what makes them so popular.