Today marks one year since I left my corporate job and embarked on this creative sabbatical.
It has definitely had its ups and downs and in this week's post, I want to share with you some of the lessons I have learned along the way.
If you are feeling burnt out from software development and are considering taking your own career break to do something more creative with your time, then listen closely.
Take time to decompress
I was in the office for my last day at work, mainly so I could spend the evening in the pub saying goodbye to all the colleagues I had got to know over the last 3 years.
I left my job on good terms. It is always important not to burn any bridges when you leave a company. It is a surprisingly small world and you never know when you are going to be working with someone again in the future.
For the first month, I did nothing but spend time with my family. It was August so my children were on their summer holidays. Even if you aren't planning on a major career change I think if you can afford to, taking a month off between jobs can be a great way to clear your head and start your new job with a fresh mindset.
Everything takes a lot longer than planned
I spent most of September planning out the content for my YouTube channel and pre-recording some videos. I already had 3 videos on my YouTube channel that I had made ad-hoc earlier in the year and thanks mostly to my past colleagues, I also had 51 subscribers on my channel.
I started posting on 3rd October 2022 with this video on Is Programming the Right Career for You? Compared to my newer videos, the quality wasn't great but it just goes to show you how much you can improve over a few months.
The plan was to post 2 videos per week. I did manage this schedule for the first month but it quickly became unmanageable. My week looked much like this:
Monday: Script 2 videos
Tuesday: Record 2 videos
Wednesday: Cut out all the mistakes
Thursday: Add in stock footage and animations
Friday: Start editing the second video
Monday: Add in stock footage and animations
Tuesday: Script 2 videos
Wednesday: Record 2 videos
You can see with each week I was getting further and further behind and by the end of October I had already used up the buffer I created for myself by recording videos in September.
Over the coming months, I decided to work on quality over quantity. I can't compete with the bigger YouTubers who have people edit their videos for them and I have seen some channels do well with just 1 good video every couple of months.
Plan on earning nothing
I knew going into this that it was going to take at least a couple of years before I started earning significant money.
If you plan on taking an extended career break you need to start saving early. This means living below your means while saving a significant portion of your income each month.
My original plan was to go for Financial Independence (FIRE) but I realised that given I am not a Silicon Valley software engineer, capable of earning multiple 6 figures a year, it was going to take a lot longer than I wanted.
The idea behind FIRE in most cases is to save 25 times your annual expenses so that you can then withdraw 4% of your investments (adjusted each year for inflation). Without winning the lottery this wasn't going to be possible without working until I was at least 50.
Obviously, 50 isn't too bad an age to retire but I have no idea what my health or anything else would be like by then. I also want to be able to spend time with my children while they are young and still enjoy my company. By age 50 my youngest will be 21 years old, I am not sure she will want to hang out with her Dad at that age.
Back on topic, it has been nearly 10 months since I started posting regularly on YouTube. I wasn't planning on making any money for my first year and as predicted this has been the result: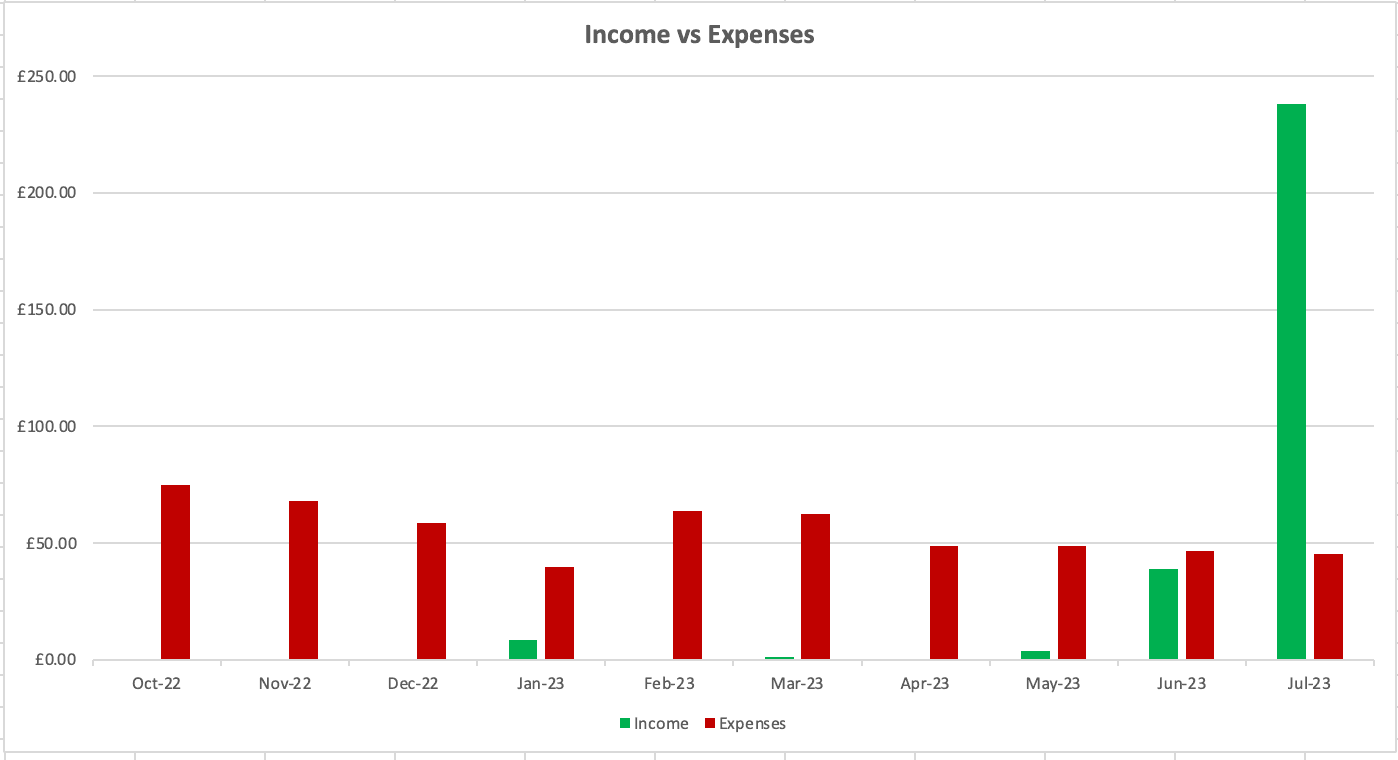 My YouTube channel was monetised in May but it has taken until this month to earn enough for a payout. I also managed to reach the payout threshold for the adverts on my website this month which is a bonus.
Combined with some affiliate income as well as the few of you that have opted to join my paid subscription, my little creator business is now cashflow positive for the first time.
Next month's revenue will likely be less than this month's though, as this month includes yearly subscriptions, one-off donations and website ad revenue from the past 6 months. Although YouTube revenue alone should be enough to remain cashflow positive.
I have had several companies reach out to me for sponsored videos but I don't feel right plugging a product that I haven't used before. So I could be earning more if I took on some of these sponsorships but I would rather keep my videos spam free for as long as possible.
So for July 2023, my totals are:
Income: £237.98
Expenses: £45.33
These are the main categories that my income and expenses fall under:
Income:
Substack Newsletter Subscriptions
YouTube Ad Revenue
Affiliate Marketing
Website Ad Revenue
Donations
Expenses:
Analytics
AWS
Editing Software
Adobe Photoshop
Google Workspace
For those that are interested, I will include a full breakdown (paid subscribers only) of this month's business income and expenses at the bottom of this newsletter. I know it has been helpful for me in the past to see where the creator's income has come from so I am hoping it will help you as well.
As you can see from the graph I have managed to cut my expenses a lot over the last few months. The main drop was from switching to DaVinci Resolve so I no longer needed to pay out for Adobe Creative Cloud.
Plan for the unexpected
When I started this sabbatical companies hadn't started mass layoffs, inflation was starting to creep up but wasn't too bad and mortgage interest rates were still at around 2-3%.
UK Inflation over the last year:
UK Mortgage Rates 2000-2023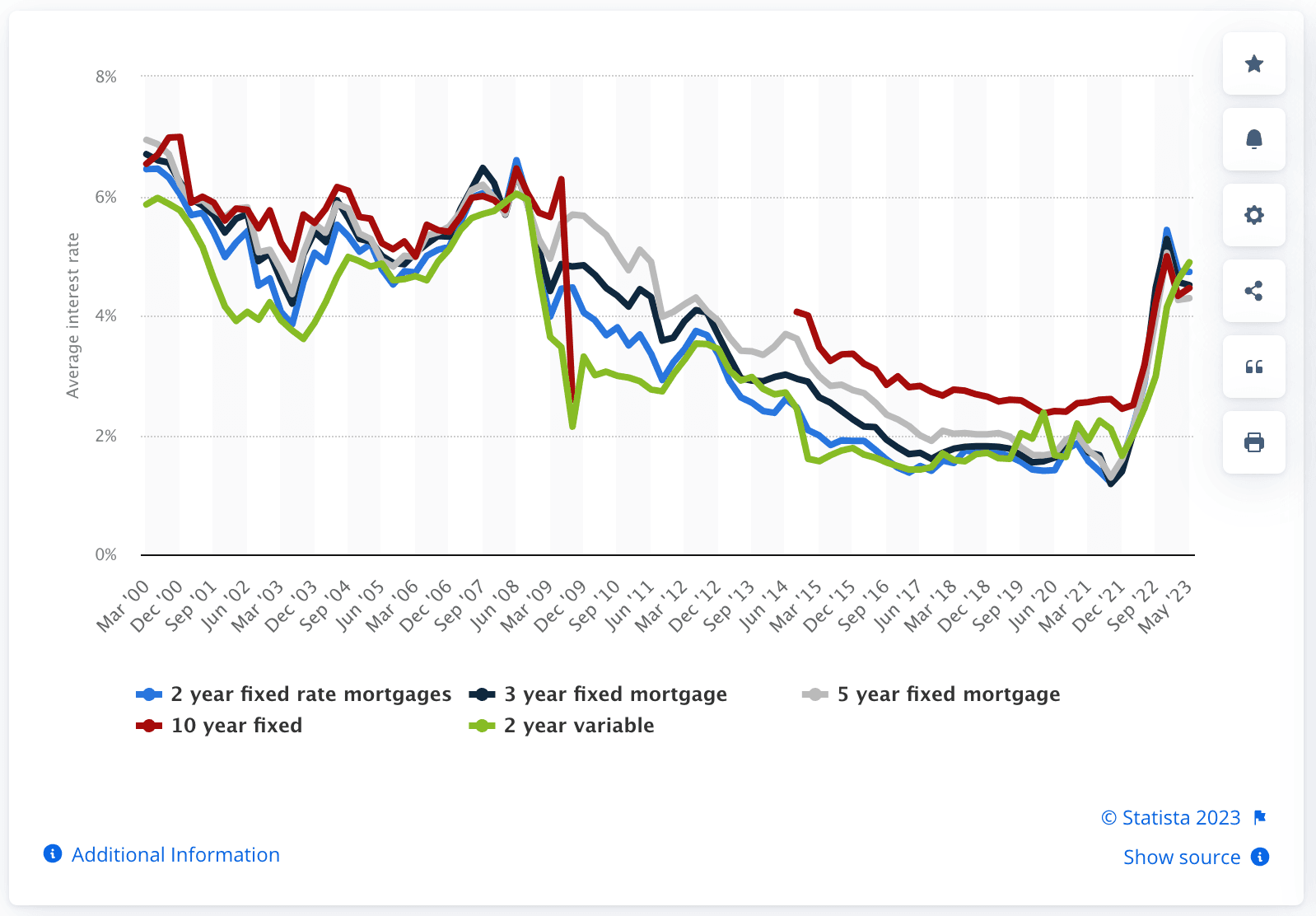 Unfortunately, that means my runway is shorter than I had planned but I have enough to keep going for at least another year. Although I am not looking forward to my mortgage getting renewed next year 😬. I may have to take on some freelance work which will mean fewer YouTube videos from me.
If you plan on taking a year off make sure that you are saving at least 50% more than you need. Having said that, you will be surprised at how much your spending drops when you are going into the office as much.
Unexpected Benefits
Doing this sabbatical has had some unexpected benefits as well. I never thought about my corporate work being particularly stressful but there is always that nagging feeling of what is happening at work when you are away. Especially when you are responsible for 24/7 services.
Combine that with long hours, long commutes and not enough hours in the day to take care of yourself it can all add up. Overall I feel a lot less stressed than I did when I was working in London.
You don't have to take my word for it. You can see by my resting heart rate below how much of a difference it makes.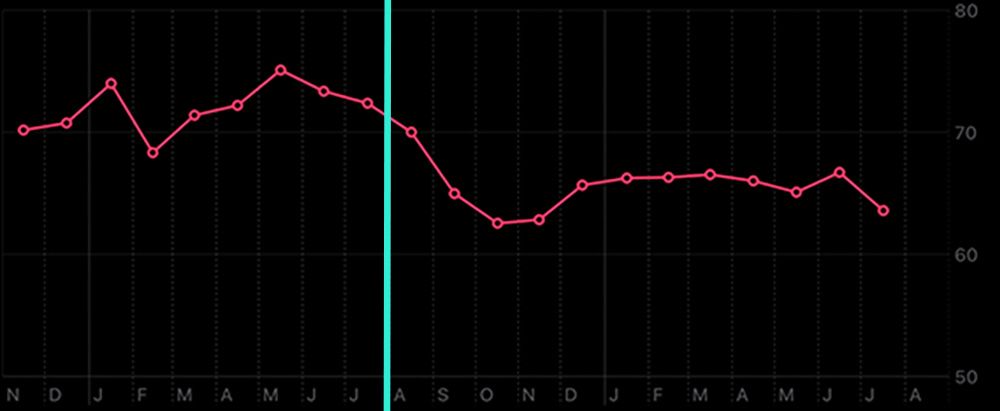 Imposter syndrome is still there
Even though my YouTube channel now has over 5,400 subscribers and over 220,000 views I still doubt myself on a daily basis.
Am I doing the right thing?
Will people actually want to watch my videos?
Do I really understand this topic properly?
Do I need to pivot my channel content?
Why is my channel not growing as quickly as others?
Luckily I have a very supportive wife who helps a lot with my self-doubts and cheers me on to keep going. It doesn't matter what you are doing there is always going to be some self-doubt in the back of your mind. Thankfully most of the comments on my videos have been fairly positive.
The negative comments have usually been on my shorts, especially when I have posted them on TikTok which is one of the reasons I stopped making them. I may go back to creating shorts in the future but at the moment I am not seeing enough ROI to make them.
It can be lonely
If it wasn't for my family at home I think I would struggle with loneliness a lot more. I am quite introverted so I don't crave a lot of social interaction on a daily basis. If you are more of an extrovert it could be a struggle though.
I do however try and keep in contact with my friends and colleagues as well as make new internet friends with all of you. I am still replying to every YouTube comment and every email so keep them coming!
The developer community is generally a positive friendly bunch and I need to spend more time reaching out to people to say hi.
When it comes to my own personal values I value honesty the most. This is why I like to share these rather candid thoughts and experiences with you. There are so many developers and creators who spread rather unrealistic expectations of how much you can earn and what it is like to be a developer on a daily basis, I don't want to be one of them. I hope my honesty is refreshing.
❤️ Picks of the Week
📝 Article - South Park Episode Generated with AI. I used to watch a lot of South Park as a teenager. I haven't watched it for years though. Either my tastes changed or their storylines just got a bit too much. The sheer number of episodes however makes it perfect for training AI. I am amazed that are able to produce a whole episode using AI. I can see this being used a lot in the future when the technology gets better.
🐦 Tweet - Design Patterns. Milan has done a great breakdown of the popular design patterns which is worth a look at.
📝 Article - Why engineers should focus on writing. Writing has definitely helped me a lot in the last year and I can say from experience that engineers don't write enough. We write plenty of code but shy away from writing documentation. If you can express yourself well in words it will improve other areas of your life as well.
📝 Article - On Becoming a VP of Engineering, Part 1: The Path to VP. Emily has shared some great insights on the path to becoming a VP of Engineering. Part 2 is worth a read too
📝 Article - 8 Best Practices for React.js Component Design. For those working with React, these are some good tips to follow when designing your components.
📝 Article - How Coders Can Survive—and Thrive—in a ChatGPT World. They say if you can't work with AI you will be left behind. I don't think AI will replace programmers but I can see it saving a lot of time when it comes to all the boilerplate code that we have to write.
👨‍💻 Latest from me
🎬 YouTube - CI/CD Pipeline Using GitHub Actions: Automate Software Delivery (for free). It has been 4 weeks since my last YouTube video. For this video, I wanted to put together a project to show off GitHub Actions. It ended up taking longer than planned but I am happy with the result. The code is on GitHub for my paid subscribers.
💬 Quote of the Week
The superheroes you have in your mind (idols, icons, titans, billionaires, etc.) are all walking flaws who've maximized 1 or 2 strengths.
From Tools of Titans (affiliate link) by Tim Ferriss. Resurfaced with Readwise.